Trinity Direct—Rising to the Challenge
More than 20 years ago, John Kehoe founded Trinity Direct to fulfill his desire to help nonprofits succeed his way: with honesty, integrity, and a singular focus on what's best for the client. This approach has helped Trinity Direct become a national leader—and trusted partner—in nonprofit fundraising.
At the time of our founding in 1997, Trinity Direct focused on list brokerage, list management, and data processing. As our client's needs have grown, we've grown with them. Today, Trinity Direct has expanded our services in order to provide a full fundraising solution for our clients, including list brokerage, list management, merge purge, modeling, list fulfillment, email creative and deployment, and much more. With Trinity Direct, our clients get a professional team with 100+ years of collective fundraising experience.
We also pride ourselves on strategic partnerships with vendors that specialize in data modeling, social networking, digital advertising, website design, and creative development.
Trinity is there with you, helping you succeed. Every step of the way.
The Trinity Difference
Service
Since our founding, Trinity Direct has worked with organizations of all kinds and sizes—from small, one-person shops to large organizations with national, even global, scope. And we pride ourselves on giving every single client the same level of unparalleled service. We treat every single program like it's our program—because your success is our success.
For every client, we're committed to going above and beyond expectations; that's just who we are. And, as a family-owned company, we're flexible and committed, taking an "all-hands-on-deck" approach to meeting our clients' needs.
We take a big picture, long-term approach to solving your problems and helping you achieve your goals. And, whether you've come to us for list management, email deployment, or anything and everything in between, we want to understand you, your program, and your goals so that we can offer you the best service solutions possible.
Integrity
At Trinity Direct, we're committed to putting the needs of our clients first, every single time. If we don't think a service is the right one for you, we'll say so. We only offer you what you need, and we only charge you for the services you use. It's how we fulfill our own passion for doing good—by helping our clients do well.
Innovation
The fundraising landscape is changing rapidly, and Trinity Direct is committed to keeping our clients ahead of the curve. From data modeling to multi-channel campaign solutions to the latest in list brokerage and management, we are devoted to employing the best and latest strategies in direct marketing.
That means going beyond just "keeping up with the pack." It means being innovative and forward thinking. And, sometimes, it means recognizing an unmet need—and meeting it ourselves. For example, Trinity Direct is proud of our work to create The Catholic Co-Op, a cooperative database exclusively for Catholic organizations.
Meet Our Team
The heart of Trinity Direct is its people—professionals who are experts in their fields and who have a big heart for the clients and missions they serve.
Take a moment, and get to know us.
John P. Kehoe – Founder and CEO

John Kehoe founded Trinity Direct in 1997. During more than 30 years in direct marketing, John has worked with numerous nonprofits and faith-based organizations, including Food for the Poor, Dominican Sisters of Hope, and The Archdiocese for the Military Services.

Before launching Trinity Direct, John served as Director of Brokerage and List Management for Database America. Prior to that, John served as Vice President of Fundraising at the Walter Karl Companies. John has also been an honored speaker at a variety of fundraising and marketing conferences, such as the Direct Marketing Association Nonprofit Conference, the National Catholic Development Conference, and the Association of Fundraising Professionals annual conference. John has also lectured at prestigious institutions such as New York University, Kean College, and Seton Hall University.

John believes in taking a personal, hands-on approach to ensure each client's needs and goals are met. Whether it's through list selection, creative development, or campaign strategy, John leads the effort to provide clients with optimum results. His hands-on approach, his commitment to building trust and lasting relationships, and his insistence on honesty, integrity, and leadership are some of the founding principles of Trinity Direct. And, above all, John believes that the client's success is Trinity's success.

phone: (973) 283-3600 ext. 205
email: [email protected]

Sean Kehoe – President

Sean Kehoe is a 15-year veteran in fundraising for nonprofit organizations. He has worked with large and small fundraisers, coordinating services and strategy across full range of Trinity's offerings.

Sean's nine years of experience at Prudential Financial and HIT Entertainment has helped propel Trinity Direct into a new level of success by incorporating the latest in digital marketing strategies. Sean's passion for new points of entry into fundraising has encouraged current mailers to incorporate direct mail with email and social media trends to improve click-through, average gift, and response rate results.

Sean helps tailor plans to the needs of individual clients in order to achieve—and exceed—their goals. Taking the full-service approach Trinity Direct is known for, Sean utilizes a big picture, comprehensive understanding of each client's program in order to provide them with the strategy and the right tools to meet their needs.

Whether it's through brokerage, management, data processing or online fundraising, Sean helps clients innovate, problem solve, and work efficiently toward their goals. Sean's leadership has been instrumental in launching Trinity's full-service suite of digital fundraising solutions. And, he's helped Trinity grow by embracing Trinity's core belief that long-term success is built on trust, integrity, and lasting relationships.

phone: (973) 283-3600 ext. 206
email: [email protected]
Lori Dwyer, Vice President of Brokerage

Serving as Vice President of Brokerage since 2015, Lori brings over 20 years of direct marketing experience to our team. Throughout her career, she has successfully fulfilled executive, analytical and operational roles. Lori's vast experience is reflected in her efficient and effective multi-channel marketing campaigns, which range from nonprofits to niche publishers and consumer marketers. Earning her B.S. in Marketing from the University of Hartford, she is an integral part of our Trinity Direct team. Her expertise in research, price negotiation, cost analysis, and forecasting make her a valuable asset to our diverse clientele.

phone: (973) 283-3600 ext. 210
email: [email protected]

Manny Ortiz, List Broker

Manny Ortiz has been with Trinity Direct for almost eight years and has been in the direct mail marketing industry for over fifteen. Manny has experience in list management, list fulfillment, and, most recently, has gained experience in our list brokerage department. Having knowledge and experience within each branch of the industry, Manny has become a vital asset to Trinity Direct. Manny is passionate about providing his clients with detailed analysis and recommendations based on actual results. Some of the clients Manny is currently working with include Ignatius Press, Smithsonian Associates, Dominican Sisters of St. Cecilia, Alaskan Shepherd, Catholic Charities, and St. Vincent De Paul. Manny has significant experience in the industry and prides himself on having great passion for the success of his clients.

phone: (973) 283-3600 ext. 225
email: [email protected]
Maribel Escobales-Ramos, List Management Account Specialist

phone: (973) 283-3600 ext. 208
email: [email protected]
Garfield Vassell, Director of Computer Services

Garfield Vassell has over 21 years of experience in the Direct Marketing Industry, in both the consumer and nonprofit sectors. After completing his Computer Science degree in Jamaica, he brought his international expertise to the United States. Specializing in data processing, merge/purge, NCOA, CASS certification, postal sorting, and scanline programming, Garfield is a valuable resource for all of Trinity Direct's clients.

He works up close and personal with List Brokers and List Managers to ensure the accuracy and efficiency of all aspects of data processing. Garfield engages directly with clients about the data and its intended output. His hands-on approach and attention to detail is essential in achieving positive outcomes for our clients.

phone: (973) 283-3600 ext. 213
email: [email protected]
Successes
Our Clients
Trinity Direct serves a multitude of clients within the nonprofit sector as well as buyers, subscribers, and publishers. Over the years, we've worked with organizations large and small. We're passionate about advancing worthwhile causes across the spectrum—from Catholic to faith-based organizations of all kinds to health and hospitals, social services, relief, museums, education, and more.
No matter who they are, our clients rely on us to produce results. Whether it's increased response rates, growing your house file, or upgrading donors to mid-lever and major giving, we focus on helping you achieve your marketing and fundraising goals.
We're proud of the reputation we've built through valued, long-term relationships with our clients. But don't take our word for it.
Testimonials
Here's what some of our clients have to say.
Success Stories
Many agencies talk a good game, but the real test is what they can do for you. Here are a few case studies that showcase the way we get results:
Case Study #1: Client mails 3,000,000 names per year in acquisition and 12 house appeals
For a current client, we recently conducted a three-year package analysis, which revealed three control winners. By pairing the most successful lists and packages, we increased response rate, average gift, and surpassed the client's new donor goal for the fiscal year. In fact, we celebrated the best acquisition results in the past five years!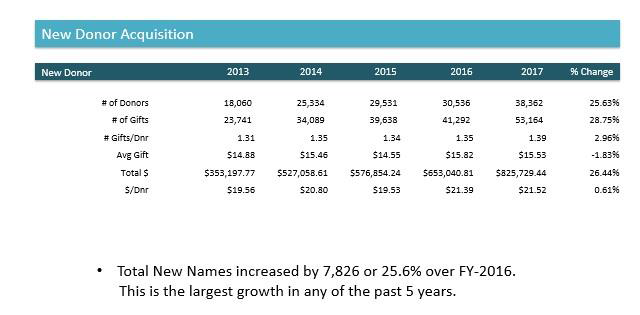 Case Study #2: Client mails 750,000 per year in acquisition
See chart below which exemplifies growth and reduction in cost to acquire. This was achieved by using our proprietary package and list analysis processes.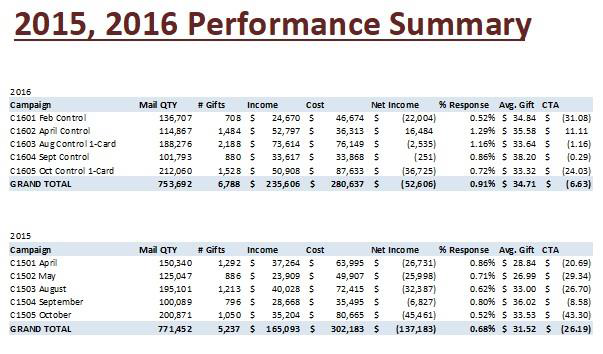 Case Study #3:
A successful Spanish speaking acquisition launch yielded above 3% response rate. There is a huge untapped Catholic / Spanish market and it tends to be younger than the English-speaking donor. Tapping this underutilized market provides another avenue to engage younger donors and increase response rates in acquisition.