Our Innovative Approach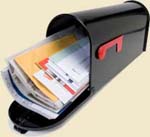 We're more than just your average list management company. We consider ourselves part of your marketing team. Each managed list is overseen by an experienced and knowledgeable Trinity Direct list manager to ensure maximum exposure of the list and, most importantly, to protect its integrity.
This is just one of the many reasons why we've been entrusted with over 250 lists from nearly every sector of the industry. As a premier list management provider, Trinity Direct has a unique appreciation for the responsibility that such a duty requires.
When you place your list in the care of Trinity Direct, you can be certain that your most valuable asset—your donors, subscribers and buyers—will be treated with the respect they deserve. And, just as importantly, you'll know that your list potential will be optimized under our expert supervision.
List Management and Marketing Services
Industry Contact: We are able to directly contact those mailers and brokers who will have an interest in your list. Every phone call, whether inbound or outbound, is treated like an opportunity to talk about your file. We treat every count request, every clearance request, and every order with equal importance to achieving maximum list rental and exchange leverage.
PROMOTIONS: We regularly send out email promotions and data cards for all of our managed properties, and this effort is then followed up with a phone call. Data related to each particular list would be on display and available at all trade shows and industry events that Trinity Direct participates in. We send out press releases for all new managed properties as well as for updates to existing lists.
MAIL DATE CALENDAR: Trinity Direct will maintain a mail date calendar on your behalf as well as keep your exchange status reports. We will adhere to and follow your guidelines while integrating your mailing strategies with other mailers in order to simultaneously protect and optimize your response rates.
REPORTING: We provide a monthly list usage report that shows orders, quantities, mail dates and expected revenue. We're able to provide you with activity summaries including value per name, file turns, and year-to-year comparisons.
Trinity Information Systems, our full-service, in house data processing and fulfillment company, will maintain your data and provide quick turn-around on all orders.